All though this club doesn't officially start until March, you can sign up now to be sure you don't miss a month! Here's the details straight from Stampin' Up! If you have any questions, be sure to contact me.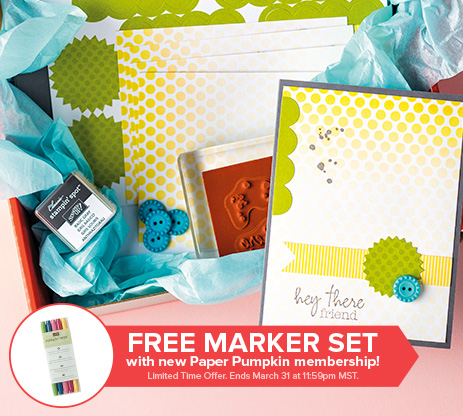 Paper Pumpkin
Just think . . . I come to your door each month (a fully decked-out creativity carriage). I'll help you escape your life with some paper fun. (I'm kinda like your paper fairy godmother—without white hair!) You'll love what you find on the inside: All the stamps, ink, paper, and accessories to create pinable projects. Stuff like cards, 3-D items, and more!
Here's a sample of what you can make in minutes with one of the monthly kits. Each kit will be different, sometimes cards, sometimes not....Either way, when you pick me, Karie Beglau, as your demonstrator you will begin to receive an email after each shipment with some other ideas for each kit. I will have to wait for my kit to arrive, naturally, but you will get the email before the next one arrives!! I've been having fun with this first kit and I can't wait to share those ideas with you!
Sweep away the mundane
- order your

Paper Pumpkin

today!

FAQs
Q:
How can I learn more about stamping?
A:
You can
visit the Stampin' Up!
website to learn more. Please click on the button that says, "Find a Demonstrator" and enter my name, Karie Beglau. When you do I will put you on my email list to receive an email with some other ideas for each month's kit!
Q:
When Will I Be Billed?
A:
Your credit card will be charged as soon as your Paper Pumpkin ships. You will get an e-mail notifying you that your card has been charged.
Q:
What comes in my Paper Pumpkin?
A:
It's a surprise each month—anticipation for the surprise is seriously half the fun! No worries, though, you'll have everything you need to complete the project: paper, stamps, ink, accessories, and more! (You will need adhesive.)
Q:
Is my subscription on auto renew?
A:
Yes, your subscription is on auto renew. However, you can skip a month or cancel at any time. Simply log on to your account on
www.mypaperpumpkin.com
and click skip a month before the 10th of the month in order to skip the Paper Pumpkin for that month. If you click skip a month on the 11th of the month, you will receive that month's Paper Pumpkin and not receive the following month's Paper Pumpkin.
Q:
When do I need to sign up in order to get my Paper Pumpkin for a specific month?
A:
You need to sign up by the 10th of the month in order to receive your Paper Pumpkin for that month. If you sign up after the 10th―no worries! You will get your first kit the following month. You'll know your Paper Pumpkin is on its way when you receive your shipment confirmation e-mail.
Q:
It asked me if I have a demonstrator—what is that?
A:
A demonstrator is a super cool creativity coach that sells Stampin' Up! products. We'll give you the option to choose a demonstrator when you sign up for a membership. You're definitely going to want one. But you can still join without selecting a demonstrator.
(I'd sure like it to be me! Karie Beglau).
Not sure you are ready for a subscription?
There's the "Try It" kit for you to see what the subscription packages are like. This kit will not change every month (at least not for now) What you can't see is that there are fun left over items you can use to embellish the inside of your book, or make other projects!
Contact me for more Details:
Email MemoryINKers@att.net
Call/Text 248-990-1886
Until Next Time . . .
Hugs, Karie